Amerorchis rotundifolia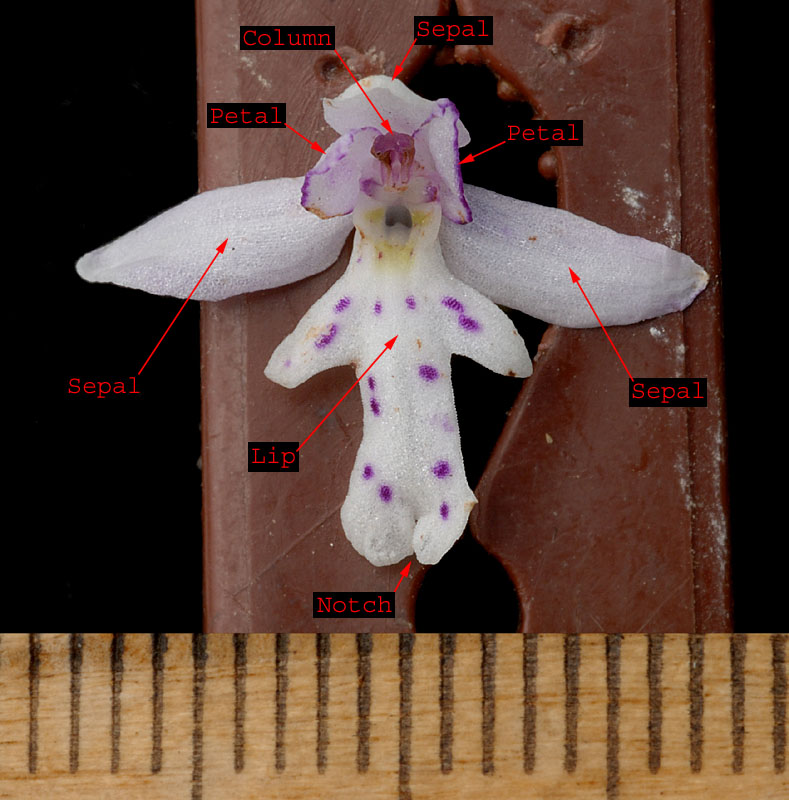 Round-Leaved Orchid
Lip Top

Duck Mountain Provincial Park
28-June-2007
Note the three-lobed lip with a notch at the apex of the median lobe. Note also that the median sepal and two lateral petals form a "hood" around the column.
This species used to be known as Orchis rotundifolia. This is the name used by Budd's Flora and Flora of Alberta, and therefore the notes below use the old name.
Note that the key to the genera in Budd's Flora requires "leaves 2". In fact, the leaf is solitary. The rest of the answers to the key questions are listed below.
Orchis: Answers to key questions in Budd's Flora (BF) and Flora of Alberta (FOA) leading to this genus.

| | |
| --- | --- |
| | plants NOT saprophytic |
| | plants with chlorophyll |
| | leaves with well-developed blades; NOT [plants with reduced, scale-like non-green leaves] |
| | leaf solitary; NOT [leaves more than 1] |
| | leaf basal |
| | leaves oval; |
| | flowers 2 to many, in racemes or spikes; NOT [flower solitary] |
| | flowers mostly smaller; NOT [flowers large, to 8 cm long] |
| | spur of flower present and conspicuous; NOT [spur of flower lacking] |
| | lip concave or flat; NOT [lip inflated and moccasin-shaped] |
| | sepals and petals roseate |
| | lip white; NOT [flowers uniformly greenish or white] |
| | petals and lip usually spotted with pink or purple; NOT [petals and lip white, yellowish or green] |
| | fertile anther 1; NOT [fertile anthers 2] |

Orchidaceae: Answers to key questions in Budd's Flora leading to this family.

| | |
| --- | --- |
| | plants NOT aquatic |
| | flowers irregular; NOT [flowers regular] |
| | perianth present, conspicuous, in two series of 3 segments, often brightly colored; NOT [perianth absent or inconspicuous] |
| | perianth usually large, consisting of sepals and petals usually alike, variously colored; NOT [perianth small, consisting of 3 green sepals and 3 whitish petals] |
| | petals NOT deciduous |
| | stamens 1 or 2; NOT [stamens 3 or 6] |