Lobelia spicata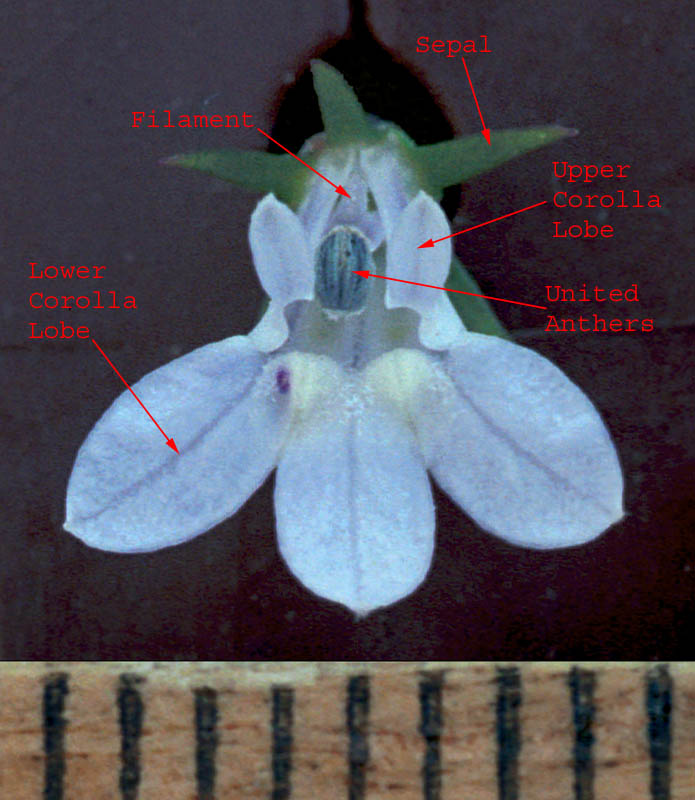 Spiked Lobelia
Flower Front
Highway #10 and East Saltcoats Grid
15-July-2006
Note the stamen tube visible through a split in the upper side of the corolla tube.
The pedicels of this species twist during flowering, rotating the flower 180 degrees. On this site, I am using the words "top and "bottom" to refer to the gravity top and gravity bottom of the flower as it appears in the ground. I am using "upper" and "lower" in a similar fashion when referring to the flower. Thus the two, smaller, narrower corolla lobes point upward when the flower is in the ground.
Note that some taxonomists place the Lobelia genus in the Campanulaceae family.
Spicata: Answers to key questions in Budd's Flora and Flora of Alberta leading to this species.

| | |
| --- | --- |
| | plants terrestrial; NOT [plants aquatic, with leaves all submerged] |
| | plants of drier soils; NOT [plants of moist marshy places] |
| | stems leafy; NOT [leaves all basal] |
| | stem leaves lanceolate to oblanceolate to ovate, usually more than 10 mm wide; NOT [stem leaves linear, less than 10 mm wide] |
| | flowers in a spike-like raceme; NOT [flowers in a loose raceme, on lax pedicels] |
| | racemes many-flowered; NOT [racemes few-flowered] |

Lobelia: Answers to key questions in Budd's Flora and Flora of Alberta leading to this genus.

| | |
| --- | --- |
| | perennials; NOT annuals |
| | corolla-tube split to near the base on the upper side |
| | capsule 2-celled; NOT 1-celled |
Lobeliaceae: Answers to key questions in Budd's Flora leading to this family.

| | |
| --- | --- |
| | herbs |
| | plants green or with some chlorophyll; NOT [plants parasitic or saprophytic, without chlorophyll] |
| | plants often with milky juice; NOT [plants without milky juice] |
| | NOT climbing plants with tendrils |
| | leaves basal or alternate; NOT [leaves opposite] |
| | flowers NOT in heads, NOT in spikes |
| | flowers with two floral rings, but with the petals wholly or partly united forming a tube or bell |
| | corolla irregular, split down one side; NOT [corolla regular, bell-shaped] |
| | anthers united into a tube; NOT [anthers free] |
| | ovary inferior; NOT superior |