Lilium philadelphicum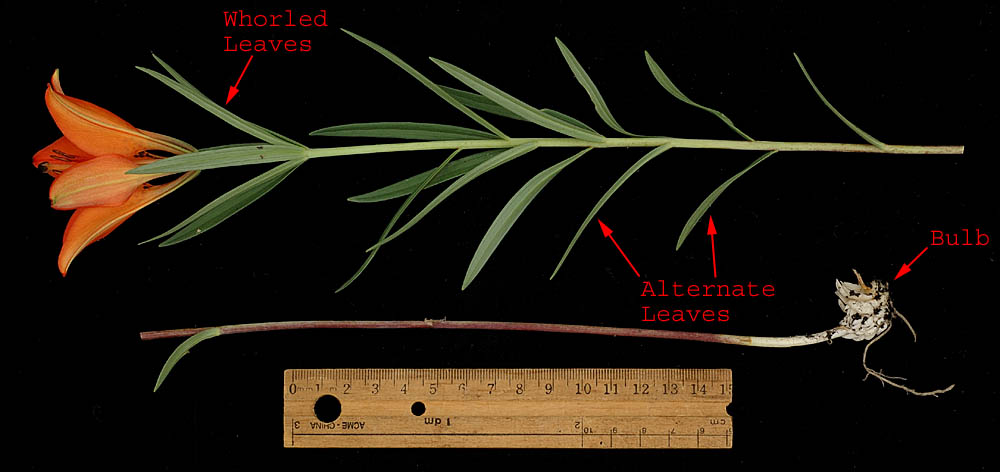 Wood Lily
Whole Plant

9 Miles North of Wynward on # 640
30-June-2006

Some taxonomists have distinguished variety andinum according to:
| | |
| --- | --- |
| | lower leaves alternate, and only upper one(s) whorled; NOT [most of the leaves whorled] |
| | capsules 4-8 cm long; NOT [capsules 2.5 to 3.5 cm long] |
The specimen collected north of Wynward on 30-June-06 would be considered variety andinum according to this definition. However, the characteristics listed above vary continuously and are often not well correlated. In many cases, growing conditions appear to be more influential in this regard than genotype. Therefore, many authors do not recognize varieties of this species. For a more detailed discussion, see the entry in the Flora of of North America.
Lilium: Answers to key questions in Budd's Flora and Flora of Alberta leading to this genus.

| | |
| --- | --- |
| | plants 3-6 dm tall; NOT [plants 1-3 dm tall] |
| | plants NOT climbing; NOT [plants climbing with tendrils, leaves roundish, net-veined, flowers in axillary umbels] |
| | leaves green, normal, not scale-like; NOT [leaves reduced to thin, dry scales] |
| | cladodes absent; NOT [the photosynthetic organs (cladodes) being axillary branches with needle-like segments] |
| | leaves linear or linear-lanceolate, usually many times longer than wide; NOT [leaves lanceolate or broader, not more than 5 times as long as wide] |
| | flowers usually terminal; NOT [flowers axillary] |
| | flowers 1-3 (rarely as many as 5); NOT [flowers more than 3, often very numerous] |
| | petals 5-7 cm long; NOT [petals 1.5. –2.5 cm long] |
| | petals usually reddish orange; NOT [petals yellowish white, bearded within, 2-2.5 cm long] |
| | fruit dry; NOT [fruit often juicy] |

Liliaceae: Answers to key questions in Budd's Flora leading to this family.

| | |
| --- | --- |
| | plants not aquatic, or if growing in water, most of the plant emersed; NOT [plants aquatic, floating or submerged, with floating leaves or emersed inflorescence] |
| | leaves NOT sheathing the stem |
| | inflorescence NOT subtended by strongly sheathing bracts |
| | flowers NOT borne in a spathe |
| | flowers regular |
| | perianth present, conspicuous, in two series of 3 segments, often brightly colored; NOT [perianth absent or inconspicuous] |
| | perianth usually large; NOT small |
| | perianth consisting of sepals and petals usually alike; NOT [perianth consisting of 3 green sepals and 3 whitish petals] |
| | petals NOT deciduous |
| | stamens 6; NOT 3; NOT [1 or 2] |
| | ovary superior; NOT inferior |