Allium textile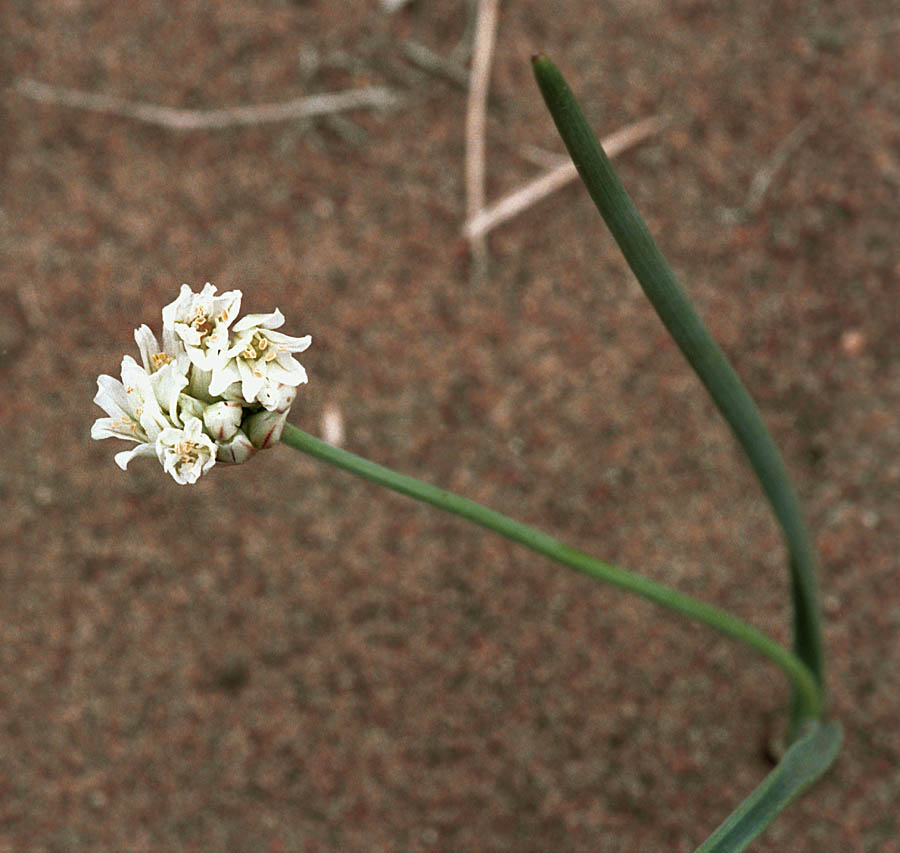 Prairie Onion
Douglas Provincial Park
09-May-1998

The key to families in Budd's Flora requires that the flowers of Liliaceae NOT be born in a spathe. However the umbels in genus Allium arise from a spathe that divides into 1-3 bracts. These bracts are different from the leaf-like spathes of Iridaceae, and it is this family the flora is trying to separate from Liliaceae with this question.

The key to families in Budd's Flora also requires that the inflorescences of Liliaceae NOT be subtended by strongly sheathing bracts. This question is meant to separate Liliaceae from Commelinaceae, the Spiderwort family. There is only one species in this family found in the Canadian prairies (Tradescantia occidentalis or Western Spiderwort), and it is rare, showy, and cannot be confused with any member of Allium.
Textile: Answers to key questions in Budd's Flora and Flora of Alberta leading to this species.

| | |
| --- | --- |
| | outer bulb-coats fibrous reticulate; NOT fiberless; NOT with parallel fibers only |
| | leaves usually 2 per scape; NOT 3 or more per scape |
| | leaves flat or channeled; NOT hollow |
| | inflorescence umbellate; NOT subcapitate |
| | umbel erect or nearly so; NOT nodding, NOT drooping |
| | bulbils NOT formed on the pedicels |
| | flowers fertile; NOT sterile |
| | flower stalks longer than individual flowers |
| | flowers white or pale pink; NOT pink; NOT rose coloured |
| | tips of inner perianth-segments spreading NOT erect |
| | ovary crested with 6 processes; NOT crestless |
| | ovary-crests low and knob-like; NOT flattened |
| | alveoli of seeds NOT pustuliferous |
Allium: Answers to key questions in Budd's Flora and Flora of Alberta leading to this genus.

| | |
| --- | --- |
| | plants with an onion odour |
| | plants NOT climbing |
| | leaves normal; NOT reduced to scales |
| | leaves linear or linear-lanceolate, more than 5 times as long as wide; NOT lanceolate or broader |
| | flowers in umbels; NOT racemes |
| | flowers more than 3, often very numerous |
| | flowers 5-15 mm long; NOT more than 15 mm long |
| | flowers NOT orange |
| | fruit dry; NOT juicy |
Liliaceae: Answers to key questions in Budd's Flora leading to this family.

| | |
| --- | --- |
| | leaves NOT sheathing the stem |
| | flowers NOT born in a spathe |
| | inflorescence NOT subtended by strongly sheathing bracts |
| | flowers regular |
| | perianth present, large, conspicuous, in two series of 3 segments, often brightly coloured; NOT absent, NOT small, NOT inconspicuous |
| | perianth consisting of sepals and petals usually alike; perianth NOT consisting of 3 green sepals and 3 whitish petals |
| | petals NOT deciduous |
| | stamens 6; NOT 3, NOT 1 or 2 |