Lotus corniculatus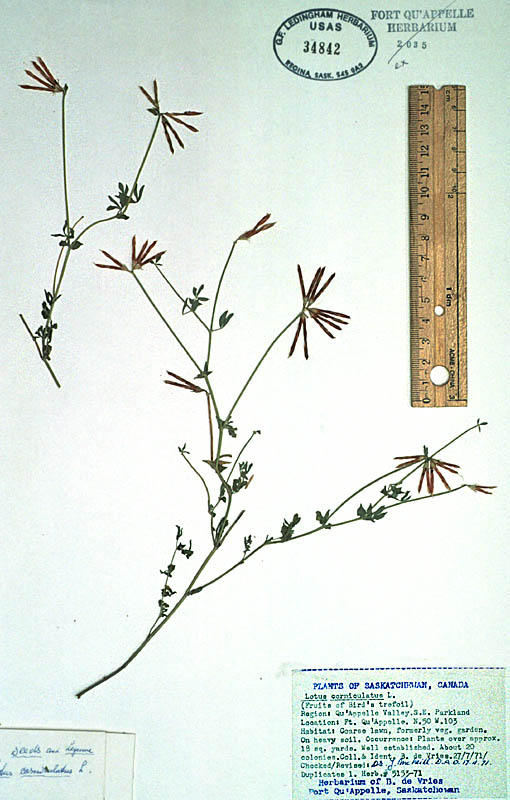 Bird's Foot Trefoil
G. F. Ledingham Herbarium
University of Regina

Note that the key to the genera in Budd's Flora requires:
- leaves palmately divided; NOT pinnately divided
- flowers usually solitary in the leaf axils; NOT in spikes, NOT in racemes
- flowers about 4 mm long; NOT 10-20 mm long
for members of the Lotus genus. However, neither of these is true for L. corniculatus. In this species the leaves are pinnate, the flowers are in an umbellate head, and each flower can be more than 10 mm long.
Corniculatus: Answers to key questions in Budd's Flora and Flora of Alberta leading to this species.

| | |
| --- | --- |
| | plants perennial; NOT annual |
| | stems solid; NOT hollow |
| | leaflets 5 |
| | leaflets pinnately arranged (the lower pair basal and resembling stipules) |
| | leaflets 5-15 mm long; NOT 10-25 mm long |
| | flowers in umbellate heads; NOT solitary in upper leaf axils |
| | flowers yellow |
| | calyx lobes incurved in bud; NOT recurved in bud |
| | calyx lobes 1.5 -2.0 mm long; NOT 2-4 mm long |
Lotus: Answers to key questions in Budd's Flora and Flora of Alberta leading to this genus.

| | |
| --- | --- |
| | herbs; NOT shrubs |
| | plants NOT cushion plants |
| | plants NOT climbing |
| | stems NOT twining on vegetation |
| | leaves NOT glandular-dotted |
| | leaflets entire; NOT [clearly toothed] |
| | terminal leaflet normal; NOT replaced by a tendril |
| | flowers all alike; NOT [upper flowers with petals, the lower ones apetalous] |
| | flowers about 4 mm long; NOT 10-20 mm long |
| | keel NOT truncate |
| | fruit a legume; NOT a loment |

Leguminosae: Answers to key questions in Budd's Flora leading to this family.

| | |
| --- | --- |
| | herbs; NOT shrubs, NOT trees |
| | plants terrestrial or semiaquatic; NOT aquatic |
| | plants NOT with colored milky juice |
| | plants with more than one normal leaf |
| | some or all leaves alternate; NOT [opposite, whorled, or basal] |
| | leaves with stipules |
| | flowers with two floral rings, and with each petal distinct from the others |
| | calyx regular |
| | flowers irregular in shape |
| | corolla pea-like; NOT [with one petal spurred or sac-like] |
| | stamens usually separate or partly so; NOT in a column |
| | fruit a legume; NOT a 3-valved capsule |