Lathyrus venosus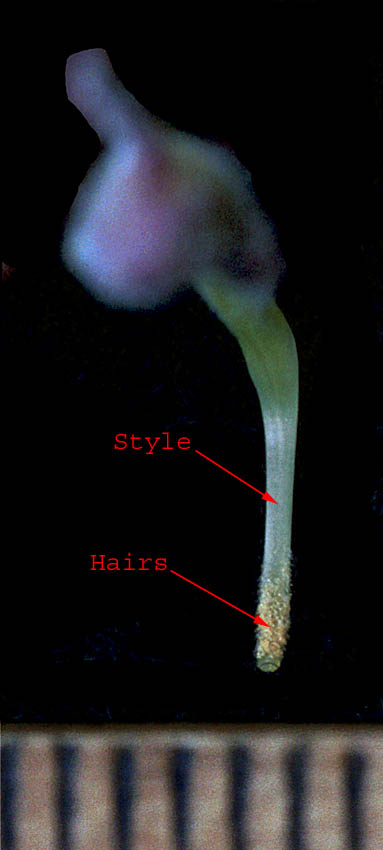 Wild Peavine
Style

Good Spirit Lake Provincial Park
19-June-2006

Note that the style is bearded along its inner side. There are yellow pollen grains embedded in those hairs.

Note that the key to the families in Budd's Flora requires that the calyx be regular. In fact, the calyx teeth are unequal in this species.
Venosus: Answers to key questions in Budd's Flora (BF) and Flora of Alberta (FOA) leading to this species.

| | |
| --- | --- |
| | stipules small; NOT [stipules large, often half as long as the leaflets] |
| | leaflets 4-6 pairs; NOT [leaflets 3-4 pairs] , NOT [leaves with only 2 leaflets] |
| | leaves finely pubescent beneath; NOT [leaves glabrous] |
| | racemes with 15-20 or more flowers; NOT [racemes with fewer than 15 flowers] |
| | flowers purplish; NOT [flowers creamy white or yellowish] |

Lathyrus: Answers to key questions in Budd's Flora and Flora of Alberta leading to this genus.

| | |
| --- | --- |
| | herbs; NOT shrubs |
| | plants climbing |
| | terminal leaflet replaced by a tendril; NOT [terminal leaflet normal] |
| | wings of flower free from the keel; NOT [wings of flower coherent with the keel] |
| | style flattened; NOT filiform |
| | style bearded along the inside; NOT [style bearded at the tip] |
Leguminosae: Answers to key questions in Budd's Flora leading to this family.

| | |
| --- | --- |
| | herbs; NOT [shrubs or trees] |
| | plants terrestrial or semi-aquatic; NOT [plants aquatic, leaves submerged or floating] |
| | plants NOT with colored milky juice |
| | plants with more than one normal leaf |
| | some or all leaves alternate; NOT [leaves opposite, whorled, or basal] |
| | leaves with stipules |
| | calyx regular |
| | flowers with two floral rings, and with each petal distinct from the others |
| | flowers irregular in shape |
| | corolla pea-like; NOT [corolla with one petal spurred or sac-like] |
| | stamens usually separate or partly so; NOT [stamens united into a column] |
| | fruit a legume; NOT [fruit a 3-valved capsule] |