Hedysarum boreale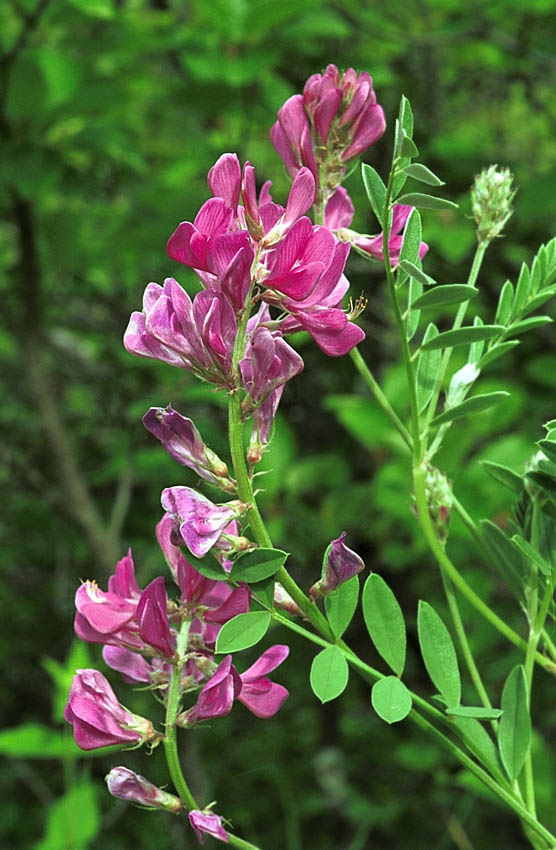 Northern Hedysarum
Inflorescence in Ground

Crooked Lake Provincial Park
11-July-2004

Note that Flora of Alberta describes two varieties (var. boreale and var. mackenzii), and Budd's Flora describes three (var. cinerascens in addition to the other two). However, Flora of the Great Plains lists all three varieties as synonyms of the species, and states that there are all degrees of intergradation between var. cinerascens and var. boreale.
Boreale: Answers to key questions in Budd's Flora and Flora of Alberta leading to this species.

| | |
| --- | --- |
| | leaflets with obscure veins; NOT conspicuously veined |
| | calyx teeth almost equal, linear-subulate, about as long or longer than the calyx tube; NOT [very unequal, the upper ones nearly triangular, shorter than the calyx tube] |
Hedysarum: Answers to key questions in Budd's Flora and Flora of Alberta leading to this genus.

| | |
| --- | --- |
| | herbs; NOT shrubs |
| | plants NOT climbing |
| | terminal leaflet normal; NOT replaced by a tendril |
| | leaves pinnately divided; NOT palmately divided |
| | inflorescence a raceme; NOT a loose few-flowered umbel-like head |
| | keel truncate; NOT acute |
| | pods segmented or jointed, breaking up at maturity (ie. a loment) |

Leguminosae: Answers to key questions in Budd's Flora leading to this family.

| | |
| --- | --- |
| | herbs; NOT shrubs, NOT trees |
| | plants terrestrial or semiaquatic; NOT aquatic |
| | plants NOT with colored milky juice |
| | plants with more than one normal leaf |
| | some or all leaves alternate; NOT [opposite, whorled, or basal] |
| | leaves with stipules |
| | flowers with two floral rings, and with each petal distinct from the others |
| | calyx regular |
| | flowers irregular in shape |
| | corolla pea-like; NOT [with one petal spurred or sac-like] |
| | stamens usually separate or partly so; NOT in a column |
| | fruit a legume; NOT a 3-valved capsule |