Gentiana affinis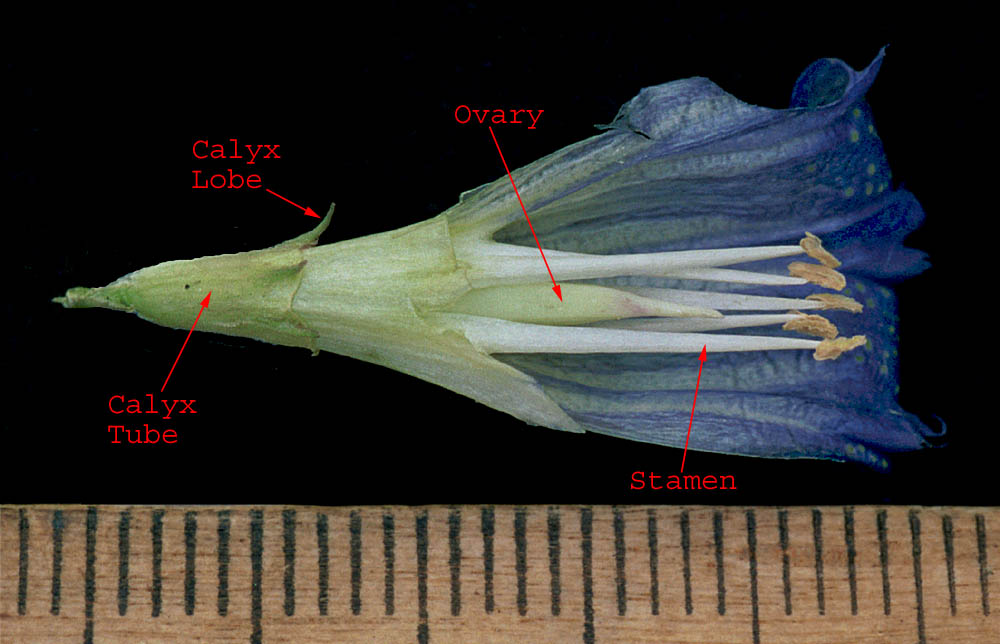 Oblong-Leaved Gentian
Flower Side, Cut Open

West Block, Cypress Hills
27-July-06

Note that a portion of the corolla has been removed to expose the interior structures.

Note that Flora of Alberta places those species without plaits or folds between the corolla lobes into a separate genus Gentianella. Budd's Flora includes these species in a larger Gentiana.
Affinis: Answers to key questions in Budd's Flora (BF) and Flora of Alberta (FOA) leading to this species.

| | |
| --- | --- |
| | perennials; NOT biennials |
| | plants erect or ascending; NOT [plants prostrate] |
| | plants without basal rosettes at flowering; NOT [plants with basal rosettes present at flowering] |
| | leaves ovate to lanceolate; NOT [leaves linear-oblong] (BF) |
| | leaves oblong or lanceolate; NOT [leaves broadly ovate] (FOA) |
| | leaves acute at apex; NOT [leaves obtuse at apex] |
| | leaves glabrous; NOT [leaves puberulent] |
| | leaves without white margins |
| | NOT [leaves 3-5 mm long, crowded on the stem, the margins scarious or whitish] |
| | flowers several, in leaf axils; NOT [flowers solitary and terminal] |
| | calyx lobes linear to linear-lanceolate; NOT [calyx lobes broadly ovate or oval] (BF) |
| | calyx-lobes acute; NOT [calyx-lobes obtuse] (FOA) |
| | flowers 25-30 mm long; NOT [flowers 35-45 mm long] (BF) |
| | corolla 20-30 mm long; NOT [corolla 30-40 mm long] (FOA) |
| | corolla 20-40 mm long; NOT [corolla 12-18 mm long] (FOA) |
| | mouth of corolla open; NOT [mouth of corolla almost or quite closed] |
| | corolla lobes distinct; NOT [corolla lobes absent or very minute] |
| | corolla deep blue or purple; NOT [corolla greenish blue] |
Gentiana: Answers to key questions in Budd's Flora and Flora of Alberta leading to this genus.

| | |
| --- | --- |
| | plants with simple opposite leaves; NOT [plants with trifoliate leaves] |
| | corolla tubular to funnelform or nearly cup-shaped or campanulate; NOT [corolla rotate] |
| | corolla tube as long as or longer than the corolla lobes; NOT [corolla tube much shorter than the lobes] |
| | corolla NOT spurred at base; NOT [corolla, at least in the larger flowers, with 4 hollow spurs at the base] |
| | corolla with plaits or folds between the lobes |
| | corolla lobes 3-veined; NOT 5-9 veined |
| | stamens inserted on the corolla-tube; NOT [stamens inserted at base of corolla] |
| | nectaries at the base of the ovary; NOT [nectaries upon the base of the corolla-tube alternate with the stamens] |
Gentianaceae: Answers to key questions in Budd's Flora leading to this family.

| | |
| --- | --- |
| | herbs; NOT [shrubs or trees] |
| | plants green or with some chlorophyll; NOT [plants parasitic or saprophytic, without chlorophyll] |
| | plants WITHOUT milky juice |
| | plants NOT twining |
| | leaves opposite; NOT [leaves alternate or basal] |
| | flowers NOT in heads or spikes |
| | flowers in cymose clusters; NOT [flowers scorpioid or solitary in leaf axils] |
| | flowers with two floral rings, but with the petals wholly or partly united forming a tube or bell |
| | corolla regular |
| | stamens alternating with corolla lobes, or twice their number; NOT [stamens directly in front of corolla lobes] |
| | stamens 4 or 5; NOT [stamens 8 or 10] |
| | style terminal; NOT [style from center of lobes of ovary] |
| | ovary superior; NOT ovary inferior |
| | ovary 1-celled with seeds born on wall of cell; NOT [ovary 2- or 3-celled with seeds born on axis in center of cell |
| | fruit a berry or capsule; NOT [fruit with 4 nutlets] |