Trichophorum alpinum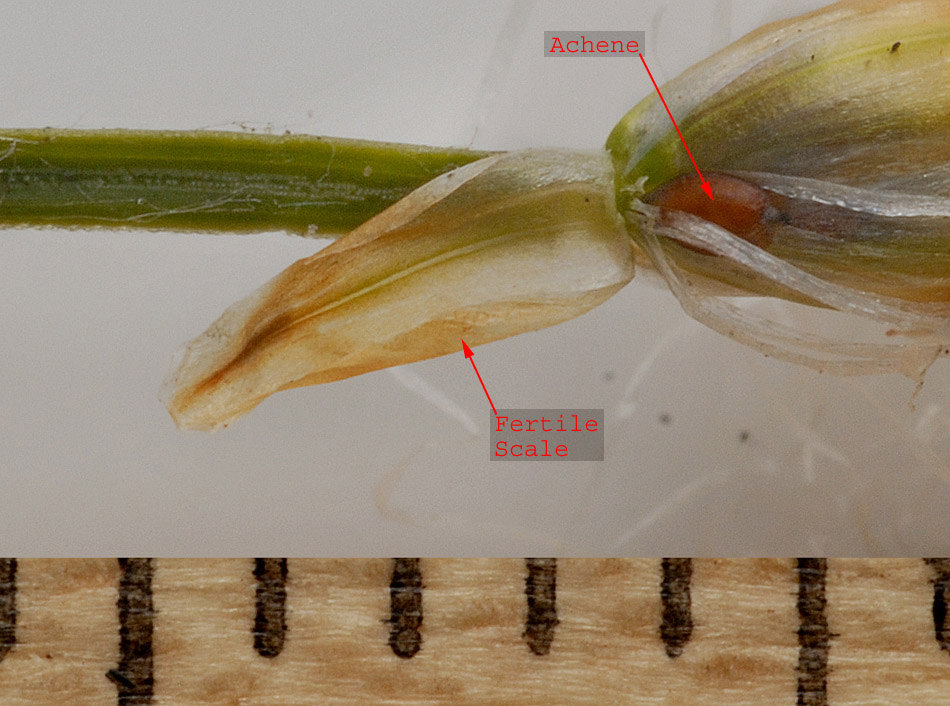 Alpine Cotton-Grass
Fertile Scale, Adaxial View

50 km North and 15 km East of Hudson Bay, SK
24-June-2016
I had originally identified this species as Eriophorum vaginatum. The correct identification was provided by Anna Leighton and I very much appreciate her doing this. Anna is currently working with Vern Harms on the next fascicle that will be published by the Flora of Saskatchewan Association. That publication will cover all the Saskatchewan monocots except the grasses, sedges (Carex), lilies, irises and orchids. Thus both Eriophorum and Trichophorum will be included in the new volume.
Some sterile scales have been removed from the base of this spikelet.
This species was known as Scirpus hudsonianus in Budd's Flora and Flora of Alberta, and the answers below are based on that older designation.
Hudsonianus: Answers to key questions in Budd's Flora and Flora of Alberta leading to this species.

| | |
| --- | --- |
| | culms triangular; NOT [culms terete] |
| | culms scabrous; NOT [culms smooth] |
| | spikelets single |
| | spikelets terminal; NOT [spikelets apparently lateral] |
| | involucre consisting of 1 scale-like bract that is small, often shorter than the spikelet; NOT [involucre green, with the bract or bracts erect or leaf-like, spreading], NOT [the involucral bract continuing the culm] |
| | bristles 20-30 mm long; NOT [bristles 2-3 mm long] |
| | bristles white |

Scirpus: Answers to key questions in Budd's Flora and Flora of Alberta leading to this genus.

| | |
| --- | --- |
| | spikelets solitary and terminal or partly lateral; NOT [spikelets in simple or compound terminal umbels] (BF) |
| | scales of the spikelets several ranked, spirally imbricate; NOT [scales of the spikelets 2-ranked] |
| | scales of the spikelets NOT keeled |
| | perianth bristles 1-6; NOT [perianth bristles lacking], NOT [bristles numerous] |
| | perianth bristles usually a little longer or shorter than the achene, elongating only in S. hudsonianus; NOT [perianth bristles often 2-3 cm long, silky] |
| | flowers perfect, with spikelets uniform; NOT [flowers imperfect, with staminate and pistillate flowers in same or different spikelets] |
| | achenes not enclosed in a perigynium or bract |
| | base of style not persistent, the achene without a tubercle; NOT [base of the style persistent as a tubercle on top of the achene] |
Cyperaceae: Answers to key questions in Budd's Flora leading to this family.

| | |
| --- | --- |
| | plants not aquatic, or if growing in water, most of the plant emersed; NOT [plants aquatic, floating or submerged, with floating leaves or emersed inflorescence] |
| | culms usually solid; NOT culms usually hollow] |
| | leaves three-ranked; NOT [leaves two-ranked] |
| | inflorescence NOT [a dense, single, cylindrical spike 8-15 cm long, 1-2.5 cm thick], if a single spike, less than 1 cm thick |
| | flowers not in globular heads; NOT [flowers in globular heads, the upper ones staminate, the lower ones pistillate] |
| | flowers solitary in the axil of a single bract (scale); NOT [flowers enclosed in two-ranked bracts with the lowest (glumes) empty] |
| | perianth reduced to bristles, or scales, or lacking; NOT [perianth reduced to minute lodicules], NOT [perianth present, conspicuous, in two series of 3 segments, often brightly colored] |