Schoenoplectus pungens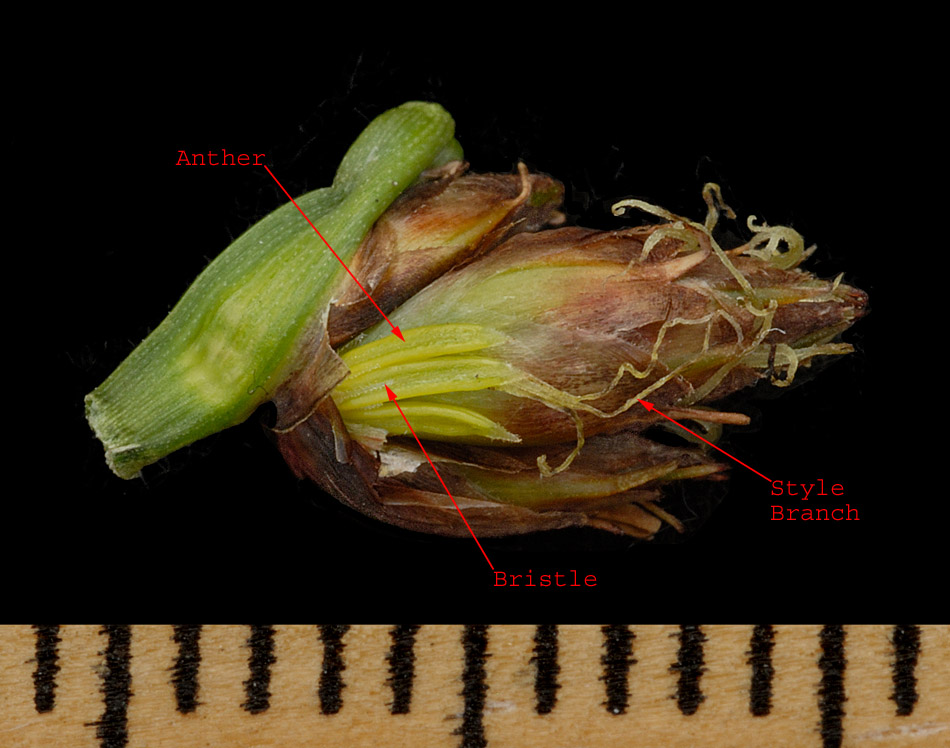 Three-Square Bulrush
Early Bristles, Stamens and Style Branches

4 km North-West of Craven,
on West Side of Last Mountain Lake
27-May-2014
I had originally incorrectly identified this species as Scirpus torreyi. Many thanks to Candace and Chet Neufeld who pointed me in the right direction.
Note that one of the scales has been removed to reveal the stamens and style branches. Depending upon the variety, there may be two or three style branches. This specimen has three.
Both Budd's Flora and Flora of Alberta use an early and expansive definition of the genus Scirpus. Scirpus has since been subdivided into a number of smaller genera, including Schoenoplectus. Thus the plant described here used to be known as Scirpus pungens but is now known as Schoenoplectus pungens. To further confuse matters, Budd's Flora appears to have misidentified this species as Scirpus torreyi and does not even include Scirpus pungens. The answers below reflect the earlier definition of Scirpus.
Pungens: Answers to key questions in Flora of Alberta leading to this species.

| | |
| --- | --- |
| | culms slender; NOT [culms stout] |
| | culms triangular; NOT [culms terete] |
| | culm sharply angled |
| | cauline leaves usually much reduced; NOT [cauline leaves usually well developed] |
| | leaves often spreading; NOT [leaves stiffly erect] |
| | involucral bract solitary; NOT [involucral bract absent], NOT [involucral bracts 2 or more] |
| | NOT [involucral bract small, often shorter than the spikelet] |
| | involucral bract not leaf-like |
| | spikelets apparently lateral, the involucral bract continuing the culm; NOT [spikelets terminal] |
| | spikelets generally 1-5; NOT [spikelets single], NOT [spikelets many] |
| | spikelets sessile; NOT [spikelets usually in umbellate clusters] |
| | achene apiculate |
| | achene not reticulate |

Scirpus: Answers to key questions in Budd's Flora and Flora of Alberta leading to this genus.

| | |
| --- | --- |
| | flowers perfect, with spikelets uniform; NOT [flowers imperfect, with staminate and pistillate flowers in same or different spikelets] |
| | scales of the spikelets several ranked, spirally imbricate; NOT [scales of the spikelets 2-ranked] |
| | spikelets solitary and terminal or partly lateral; NOT [spikelets in simple or compound terminal umbels] (BF) |
| | NOT [spikelets in terminal heads or spikes] (FOA) |
| | scales of the spikelets NOT keeled |
| | perianth usually present as bristles; NOT [perianth lacking] |
| | perianth bristles 1-6, rarely lacking; NOT [bristles numerous] |
| | perianth bristles usually a little longer or shorter than the achene, elongating only in S. hudsonianus; NOT [perianth bristles often 2-3 cm long, silky] |
| | achenes not enclosed in a perigynium or bract |
| | base of style not persistent, the achene without a tubercle; NOT [base of the style persistent as a tubercle on top of the achene] |
Cyperaceae: Answers to key questions in Budd's Flora leading to this family.

| | |
| --- | --- |
| | plants not aquatic, or if growing in water, most of the plant emersed; NOT [plants aquatic, floating or submerged, with floating leaves or emersed inflorescence] |
| | culms usually solid; NOT culms usually hollow] |
| | leaves three-ranked; NOT [leaves two-ranked] |
| | inflorescence NOT [a dense, single, cylindrical spike 8-15 cm long, 1-2.5 cm thick], if a single spike, less than 1 cm thick |
| | flowers not in globular heads; NOT [flowers in globular heads, the upper ones staminate, the lower ones pistillate] |
| | flowers solitary in the axil of a single bract (scale); NOT [flowers enclosed in two-ranked bracts with the lowest (glumes) empty] |
| | perianth inconspicuous, not in two whorls; NOT [perianth present, conspicuous, in two series of 3 segments, often brightly colored] |
| | perianth reduced to bristles; NOT [perianth reduced to minute lodicules or lacking] |