Helianthus nuttallii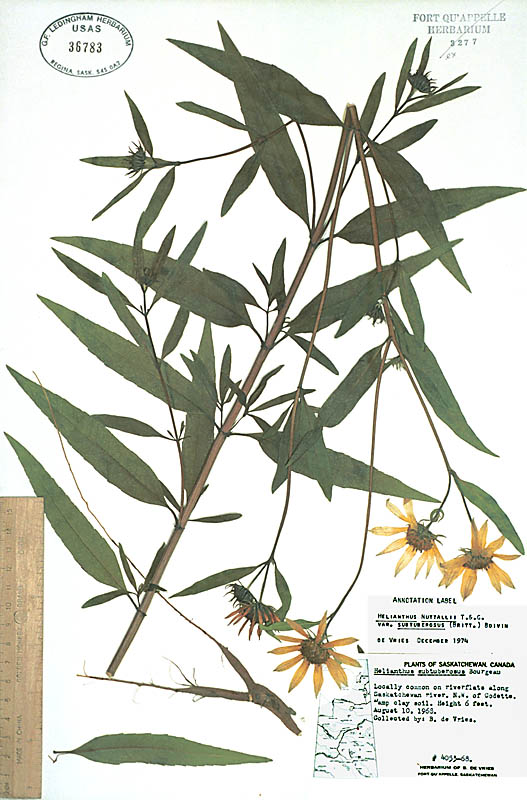 Tall Sunflower
G. F. Ledingham Herbarium
University of Regina
The keys to the species in both Flora of Alberta and Budd's Flora state that the leaves of H. nuttallii are lanceolate or linear-lanceolate. However, Flora of Canada identifies ssp. rydbergii as having the larger basal leaves mostly not over twice as long as broad. The herbarium specimens of this variety have leaves tending to ovate-elliptical.
Budd's Flora identifies var. subtuberosus as having lanceolate to linear-lanceolate leaves, compared to lanceolate leaves for the type. However, Flora of Canada includes species H. subtuberosus in ssp. rydbergii.
In any case, the leaves of this species appear to be variable in shape. However, the leaves are NEVER folded lengthwise, which distinguishes this species from H. maximilianii.
Nuttallii: Answers to key questions in Budd's Flora and Flora of Alberta leading to this species.

| | |
| --- | --- |
| | perennials |
| | rootstocks NOT tuber-bearing |
| | stem glabrous or somewhat scabrous below the inflorescence, sometimes glaucous; NOT conspicuously pubescent below the inflorescence with short white hairs |
| | leaves mostly opposite; NOT alternate |
| | leaf blades generally lanceolate or linear-lanceolate; NOT ovate; NOT somewhat rhombic |
| | leaves NOT folded lengthwise |
| | leaves rough above but somewhat hairy beneath; NOT rough on both sides |
| | involucre bracts narrow, mostly with loose acuminate tips; NOT broad, NOT firm, NOT appressed |
| | involucre bracts usually scabrous and conspicuously hairy on the margins; NOT covered with short white hairs, sometimes ciliate towards the base |
| | receptacle convex or low-conical; NOT flat or nearly so |
| | disk of flower heads yellow or light brown; NOT purple, NOT red, NOT dark brown |
Helianthus: Answers to key questions in Budd's Flora and Flora of Alberta leading to this genus.

| | |
| --- | --- |
| | perennial |
| | plants NOT with a woody caudex |
| | juice watery; NOT milky |
| | plants NOT heavy scented |
| | plants more or less leafy-stemmed (although leaves may be confined to the lower part of the stem); NOT scapose or scapiform; NOT with cauline leaves none; NOT with cauline leaves few and reduced to mere bracts |
| | leaves NOT compound |
| | at least the lower leaves opposite; leaves NOT all alternate |
| | involucre NOT glandular-glutinous |
| | involucre bracts in one or more series, but all of the same nature; NOT in 2 distinct, dissimilar series |
| | receptacle flat or convex; NOT conic, NOT cylindrical; NOT columnar; NOT tall |
| | receptacle with chaffy scales between the florets; NOT merely bristly; NOT naked |
| | flower heads with both tubular and ray florets |
| | ligulate (ray) flowers either pistillate or neutral |
| | rays conspicuous; NOT inconspicuous |
| | ray florets yellow |
| | stamens united to form a tube around the pistil |
| | pappus of small scales or awns, soon falling off; NOT composed of hairs; NOT absent; NOT present merely as a short crown |
| | pappus awns NOT barbed |