Silene latifolia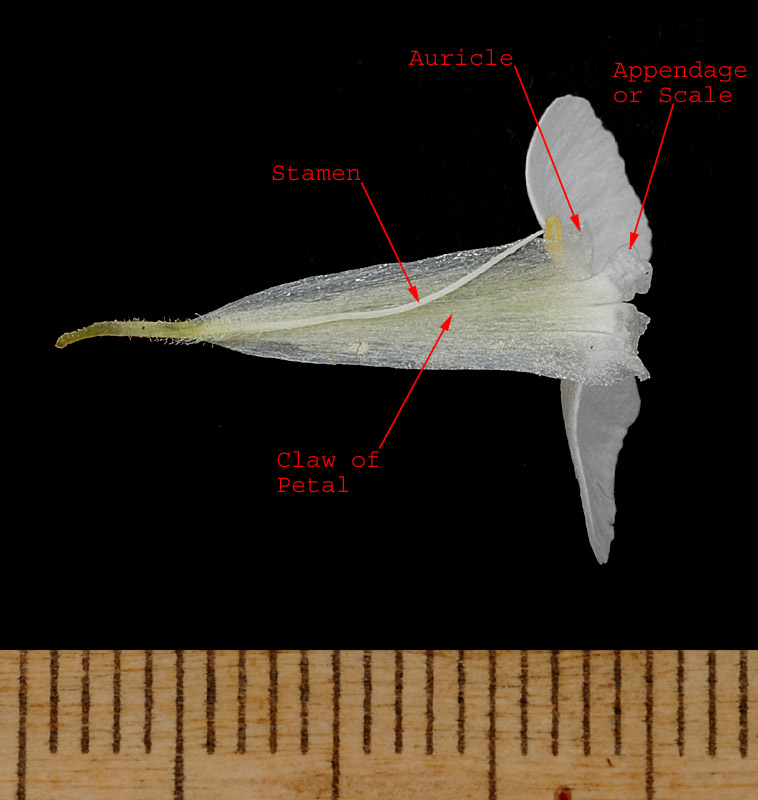 White Cockle
Male Plant
Petal and Opposite Stamen

Marcelin, Saskatchewan
17-Aug-2010
There is a stamen on either side of each petal and a stamen opposite each petal, for a total of ten. This picture illustrates the opposite stamen. The stamens on either side of the petal have been removed.
There is an auricle on each side of the junction of the claw and the limb. One of the two auricles is commonly reflexed. There are also two scales on the ventral surface of the junction.
Note that Budd's Flora refers to this species as Lychnis alba and Flora of Alberta refers to it as Silene pratensis. As a result, the answers from these flora were juggled somewhat to create the following lists.
Latifolia: Answers to key questions in Budd's Flora and Flora of Alberta leading to this species.

| | |
| --- | --- |
| | plants weedy |
| | plants dioecious |
| | calyx enlarging in fruit; NOT [calyx not or little enlarging] |
| | petals large, much protruding beyond the calyx; NOT [petals small, not or little protruding beyond the calyx] |
| | styles 5; NOT [styles 3] |
| | capsule 1-celled to base; NOT [capsule usually divided into partitions at base] |

Silene: Answers to key questions in Budd's Flora and Flora of Alberta leading to this genus.

| | |
| --- | --- |
| | plants NOT with woody base |
| | calyx without bracts; NOT [calyx with 1-3 pairs of bracts below] |
| | sepals united part way, forming a tube; NOT [sepals entirely separate] |
| | lobes of sepals NOT over 20 mm long; NOT [sepals with long, leaf-like lobes, over 20 mm long] |
| | petals usually present; NOT [petals absent] |
| | petals clawed; NOT [petals lacking claws] |
| | styles 3-5; NOT [styles2] |
| | styles alternate with the petals; NOT [styles opposite the petals] |
| | ovary stipitate |
| | fruit dehiscent; NOT [fruit indehiscent] |
| | fruit several-seeded; NOT [fruit 1-seeded] |
Caryophyllaceae: Answers to key questions in Budd's Flora leading to this family.

| | |
| --- | --- |
| | herbs; NOT [shrubs or trees] |
| | plants terrestrial or semiaquatic; NOT [plants aquatic, leaves submerged or floating] |
| | terrestrial plants; NOT [mud plants with small axillary flowers] |
| | plants NOT with colored milky juice |
| | plants with more than one normal leaf |
| | leaves opposite, whorled, or basal; NOT [some or all leaves alternate] |
| | leaves NOT glandular-dotted |
| | plants without large petal-like bracts; NOT [plants with an involucre of 4 petal-like bracts] |
| | flowers with two floral rings, and with each petal distinct from the others |
| | sepals more than 2; NOT [sepals 2] |
| | stamens NOT united at base; NOT [stamens united at base into 3-5 bundles] |
| | styles 2 or more; NOT [styles single] |