Lonicera villosa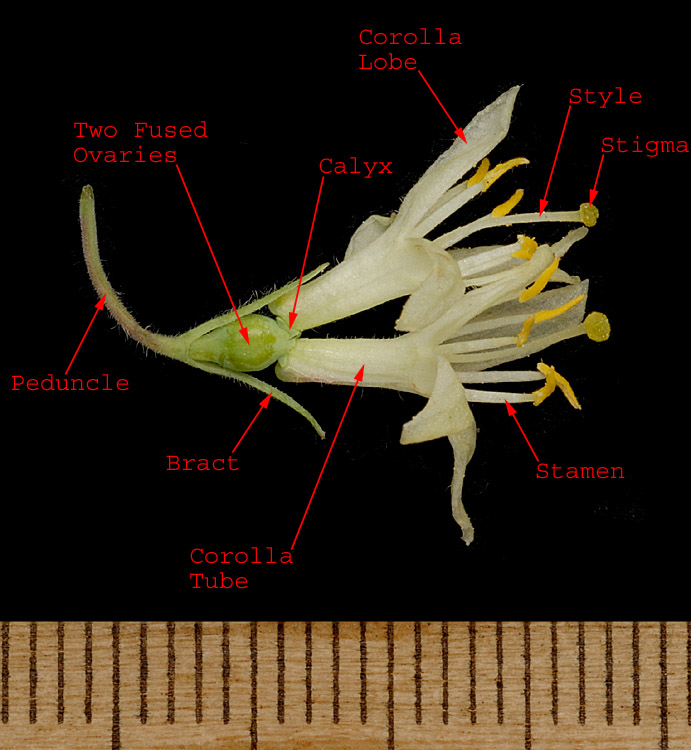 Blue Fly Honeysuckle
Flowers Side

Hudson Bay Regional Park
10-June-2009
Each pair of flowers arises out of two fused ovaries.
The flower is described as yellow in Budd's Flora and Flora of Alberta. In the specimens pictured here, the flower buds were yellow-green but they turned whitish yellow as they matured.
The key to the species in Flora of Alberta requires corolla 2-lipped; NOT [corolla almost regular]. This feature is hard to distinguish in the specimens pictured here.
Villosa: Answers to key questions in Budd's Flora and Flora of Alberta leading to this species.

| | |
| --- | --- |
| | northern plants; NOT [mountain plants] |
| | stems erect; NOT [stems twining or reclining] |
| | leaves all separate; NOT [upper leaves connate-perfoliate] |
| | inflorescence axillary; NOT [inflorescence a terminal cluster] |
| | flowers in pairs |
| | bracts at base of flowers thin or minute; NOT [bracts at base of flowers large, broad, and leaf-like, at least in fruit] |
| | corolla 2-lipped; NOT [corolla almost regular] |
| | flowers yellow; NOT [flowers pink or white] |
| | ovaries completely fused; NOT [ovaries only partly united], NOT [ovaries separate] |
| | berries solitary (as a result of ovary fusion of paired flowers); NOT [berries partially fused], NOT [berries separate in pairs] |
| | berries bluish-black; NOT [berries red or yellow] |

Lonicera: Answers to key questions in Budd's Flora and Flora of Alberta leading to this genus.

| | |
| --- | --- |
| | erect or twining shrubs; NOT [trees], NOT [low, slender, trailing evergreen shrub] |
| | leaves simple; NOT [leaves pinnately compound] |
| | leaves entire or undulate; NOT [leaves toothed or lobed] |
| | inflorescence axillary as well as terminal; NOT [inflorescence all terminal] |
| | flowers usually in pairs; NOT [flowers in clusters] |
| | calyx with short lobes; NOT [calyx with 5 linear lobes] |
| | flowers often slightly irregular; NOT [flowers regular] |
| | flowers tubular or funnelform; NOT [flowers campanulate], NOT [corolla rotate] |
| | flowers with 5 stamens; NOT [flowers with 4 stamens] |
| | fruit a berry with 2 or more seeds; NOT [fruit a capsule], NOT [fruit a drupe containing a flattened stone] |
| | fruit a red or black berry; NOT [fruit a white or purplish berry] |
Caprifoliaceae: Answers to key questions in Budd's Flora leading to this family.

| | |
| --- | --- |
| | shrubs; NOT [herbs], NOT [trees] |
| | large shrubs; NOT [dwarf shrubs] |
| | leaves opposite or whorled; NOT [leaves alternate] |
| | stems bearing few to several flowers; NOT [stems bearing a solitary flower] |
| | stamens 5; NOT [stamens 5-10], NOT [stamens 2] |
| | ovary inferior; NOT [ovary superior] |
| | fruit fleshy; NOT [fruit a capsule] |