Rhus trilobata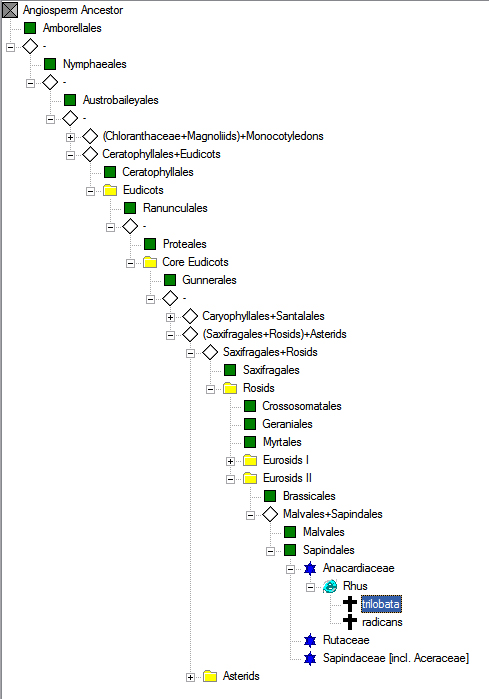 Skunkbush
This is a much condensed phylogenetic tree illustrating the evolutionary relationships between this species and higher level taxa. The taxon containing this species at each rank is illustrated, along with a small number of other taxa to provide some further context. The root of the tree is the most recent common ancestor of all angiosperms. The data has been extracted from various figures in:
Plant Systematics
by MICHAEL G. SIMPSON
November 2005
Academic Pr
ISBN-10: 0126444609
ISBN-13: 9780126444605
The data in this book is mostly obtained from the Angiosperm Phylogeny Group II (APG II), with some changes according to the Angiosperm Phylogeny Website (Stevens 2001 onwards).
The legend is as follows:
| | |
| --- | --- |
| | Yellow Folder named high-rank taxa (various ranks) |
| | White Rectangle unnamed high-rank taxa (various ranks). Note that I have personally given some of these a name (e.g. Ceratophyllales+Eudicots), but these names are not used in the scientific community. |
| | Green Square order |
| | Blue Star family |
| | Turquoise Explorer Icon genus |
| | Black Cross species |
| | White Text on Blue Background this species |
The tree was created with the YourTree application (freeware). A screen dump was made from the display to create the jpeg file inserted into the web page.